TACCHO Says
TACCHO Says provides statements by the collective voice of TACCHO Members on public health issues. To see what TACCHO Says, go to Advocacy
June 26, 2020 - TACCHO Members have followed the disturbing events of the past few months and experienced it in their own communities. TACCHO condemns the racist violence and systemic racism with the threat and reality of violence against black people. TACCHO stands unequivocally in support of black lives and calls for everyone at the local, state and national level to never forgot those lives that have been lost to this violence, and to stand up against the brutality against black people. See full statement at the Advocacy link above.
Coronavirus 2019 - COVID-19 Information!
July 8, 2020
"Federal Response to the Ongoing COVID-19 Pandemic: A Local Health Department's Perspective"
Umair A Shah, MD, MPH, Executive Director and Local Health Authority, Harris County Public Health, provides testimony to the House Homeland Securty Committee, Subcommittee on Emergency Preparedness, Response and Recovery. Dr. Shah is a Past President of TACCHO, as well as a Past President of the National Association of County and City Health Officials. Dr. Shah provided an "at the front line" account of how HCPH has been responding to COVID-19 for the past six months.Noted as an increase hot spot for COVID-19, Dr. Shah states that "regardless of whatever level of government it involves, decisions driving the response to the COVID-19 pandemic should be driven by public health and medical experts without the fear of retribution or political interference."
He concluded that "smart, strategic, scalable and sustainable investments are needed now to prevent continually subjecting public health to trial by fire."
Click HERE for the Full Testimony. Follow this link to the video testimony
July 2, 2020
Denton and Hidalgo County Public Health Directors Issue Concerns on Rising COVID-19 Cases and Hospitalizations in the Areas.
Cases of COVID-19 in Texas are on the rise and local public health officials throughout the state are providing guidance on best practices to slow the spread.
From the Rio Grande Valley area - Eddie Olivarez, Chief Administrator, Hidalgo County Health and Human Services warned that the holiday weekend could bring forth more surge in cases if safe behaviors are not practiced. On June 23, talking with a local news media, Mr. Olivarez stated - " I am dreading the Fourth of July" because of people gathering in large numbers. The rising numbers of cases "has to do with testing and community spread. We have got to stop the spread. It is the responsibility of every single resident in Hidalgo, Cameron, and Willacy and Starr counties." See the full interview at
https://riograndeguardian.com/eddie-olivarez-on-covid-19-i-am-dreading-the-4th-of-july/
In North Texas, Matt Richardson, Director, Denton County Health Department, spoke with a sense of urgency on June 30, to his Commissioners County. With the COVID-19 hospitalizations in Denton risng by 500%, Mr. Richardson stated that the time to act is now, and recommended that health and safety plans for businesses include the requirement of masks. Masks are currently being strongly encouraged, but not required. See the full article here https://dentonrc.com/coronavirus_outbreak/denton-county-health-department-recommends-face-mask-requirement-commissioners-decline/article_1cb93b24-f4a4-533c-8d50-a1b1279cc7bb.html
The following CDC COVID-19 Recommendations for community members is to:
Maintain at least 6 feet of physical distance in public settings and when around individuals outside of the household.

Wear masks or face coverings, which should cover both the nose and mouth, in public settings and when around individuals outside of the household

Wash and/or sanitize hands frequently

Stay home if you are symptomatic, have recently had close contact to a person with COVID-19, or have pending COVID-19 lab results
May 27, 2020
Casie Stoughton, Director, Amarillo Area Public Health District, was on hand to partipate in Governor Gregg Abbott's press conference held in Amarillo on May 27 to update on the COVID-19 surge response efforts using local and state resources. The Amarillo Area Public Health District leads the public health efforts in Potter and Randall counties. Casie is currently the TACCHO President-Elect and provided a statement during the press conference regarding the efforts of public health to Promote, Prevent, Protect, before, during and after COVID-19. She stated that the partnerships with local, state and national entities were critical to conduct communications, testing events and surge plans. See Casie's full statement below.
May 13, 2020
On May 13, Austin Public Health and Dallas County released online charts that outline the risks for COVID-19 transmission or guidelines to determine risk levels in the community. These guidelines were based on guidance from local, state and national public health experts and infectious disease specialists and include a color coding of risk levels to assist in identifying a low to high risk status.
Austin Public Health posted their chart noting 5 stages of risk levels for High-Risk and Low Risk Individuals. The chart notes when to Maintain Social Distancing and Wear Facial Masks during each of the 5 stages. It also notes which Workplace types to access based on risk level and stage. http://www.austintexas.gov/page/covid-19-risk-based-guidelines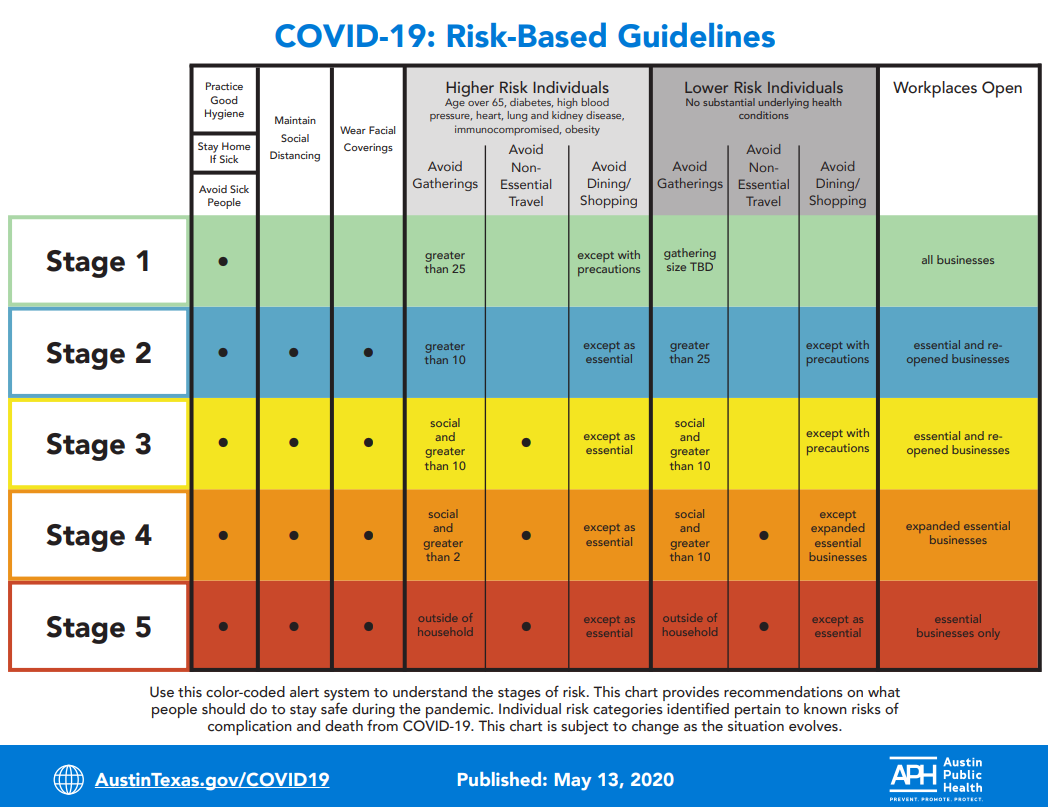 Dallas County posted their chart noting four levels of color-coded risks, red, orange, yellow and green and what activities to participate in per level. Local infectious disease specialists and public health experts will review data and advise on the current risk level that should be applied. https://www.dallascounty.org/covid-19/
Local Health Departments are a community's first line responder to health threats that affect the population's health. See the TACCHO Member list to identify a LHD in your city/county! https://www.taccho.org/member-organizations
May 5, 2020
On May 5, 2020 Governor Greg Abbott issued a new executive order that expanded the opening dates for certain business and activities. See the order at https://gov.texas.gov/news/post/governor-abbott-issues-executive-order-to-expand-openings-of-certain-businesses-and-activities
April 27, 2020
On April 27, 2020 Governor Greg Abbott issued The Governor's Report to Open Texas, with a phased opening process that begins May 1. See the plan at https://gov.texas.gov/uploads/files/organization/opentexas/OpenTexas-Report.pdf
Governor Abbott outlined the actions in the report at an announcement today. See the announcement at
https://gov.texas.gov/news/post/governor-abbott-announces-phase-one-to-open-texas-establishes-statewide-minimum-standard-health-protocols
April 17, 2020
On April 17, 2020, Governor Greg Abbott signed an Executive Order authorizing the re-opening of retail business effective April 24. Review the DSHS guidance on how to re-open safely for both employees and customers.
April 6, 2020
On March 31, 2020, Gov. Abbott issued an Executive Order implementing Essential Services and Activities Protocols. The protocols renew the Governor's directive to avoid eating or drinking inside at bars, restaurants, and food courts, although use of drive-thru, pickup, and delivery for food is highly encouraged. The order prohibits visiting gyms or massage establishments, and expands to include tattoo studios, piercing studios, and cosmetology salons. It also extends social distancing measures to April 30, 2020, and schools will remain closed to in-person classroom attendance through May 4, 2020.
March 18, 2020
TACCHO Members are actively monitoring the evolving situation with the national, state and local partners. To learn more, follow the state and national links below, as well as reviewing your local health department website. TACCHO member local health departments are listed under ABOUT TACCHO-Member Organization page.
Texas Department of State Health Services Provides the Following Guidance:
How can Texans slow the spread of COVID-19?
The next weeks are critical in slowing the spread of COVID-19. Texans must act now.

Stay home as much as possible, especially if you are sick, older, and/or have a medical condition.

If you are sick, stay home except to access medical care. If you are able to take care of yourself, stay home. If you need to see your doctor, call ahead.

Avoid gatherings of more than 10 people and non-essential trips into public.

Cancel events of more than 10 people.

Limit close contact (at least six feet) with other people. Employers should allow alternative work options as much as possible.

DSHS recommends these everyday actions to help prevent the spread of any respiratory virus, including COVID‑19:

Stay at home if you can.

Wash hands often for 20 seconds and encourage others to do the same.

If no soap and water are available, use hand sanitizer with at least 60% alcohol.

Cover coughs and sneezes with a tissue, then throw the tissue away.

Avoid touching your eyes, nose, and mouth with unwashed hands.

Disinfect surfaces, buttons, handles, knobs, and other places touched often.


Avoid close contact with people who are sick.



DSHS also recommends that you start practicing social distancing. Social distancing involves staying away from other people to avoid catching or spreading illness. It's a fancy term for avoiding crowds and minimizing physical contact. This could mean avoiding concerts or weddings, skipping the handshake, and/or staying at least six feet away from others.

Centers for Disease Control and Prevention - Coronavirus Disease 2019 (COVID-19)
https://www.cdc.gov/coronavirus/2019-ncov/summary.html
Texas Department of State Health Services - Coronavirus Disease 2019 (COVID-19)
https://dshs.texas.gov/coronavirus/
TACCHO Member Organizations
https://www.taccho.org/member-organizations
Texas Health and Human Services Commission
National Institutes of Health - Coronavirus 2019 - (COVID-2019)
https://www.nih.gov/health-information/coronavirus#!/detail/403327
National Association of County and City Health Officials (COVID-19)
https://www.naccho.org/novel-coronavirus-2019-covid-19
World Health Organization
https://www.who.int/emergencies/diseases/novel-coronavirus-2019
Project Public Health Ready National Recognition
January 21, 2020
The City of Lubbock Health Department has been recognized by the National Association of County and City Health Officials (NACCHO) for its ability to plan for, respond to, and recover from public health emergencies. The City of Lubbock Health Department demonstrated these capabilities by meeting the comprehensive preparedness benchmarks required by Project Public Health Ready (PPHR), a unique partnership between NACCHO and the Centers for Disease Control and Prevention. This designation has been awarded to less than 20% of local health departments nationally, placing Lubbock in an elite cohort.
"We are proud to have been recognized by Project Public Health Ready for our high level of preparedness," said Katherine Wells, Director of Public Health for the City of Lubbock. "This recognition is a testament to the collaboration in our community to respond to emergencies. This recognition shows that the plans we have developed locally with community partners such as schools, first responders, and medical providers to respond to a public health emergency exceed national standards."
PPHR recognition confirms that the City of Lubbock Health Department has a thorough and coordinated emergency response plan in place and that staff have the training to protect the health of the community during an emergency. Local health departments recognized by PPHR undergo a rigorous evaluation by peer review to assess their ability to meet a set of national standards for public health preparedness. These standards align with federal government requirements and other national best practices.
Learn more about the department at: https://ci.lubbock.tx.us/departments/health-department.
PHAB Awards National Public Health Accreditation to Texas LHD!
Alexandria, VA, December 2, 2019 -- Around the nation, public health departments are on the front lines of protecting and improving the health and safety of people and communities. Committed to achieving the highest standards of public health practice, a growing number of health departments are choosing to have their work reviewed against the rigorous national standards of the nonprofit, non-governmental Public Health Accreditation Board (PHAB). On December 2, PHAB announced it has awarded national accreditation status to more health departments across the nation, including the San Antonio Metropolitan Health District here in Texas. Accreditation formally recognizes that a health department has demonstrated the capacity and commitment to improve the conditions in which the community can be healthy.
This week's accreditation announcement means that 81 percent of the U.S. population is now served by a health department that meets PHAB's national standards for delivering quality programs and services to its community.
"Accreditation for local health departments is essential" said Colleen M. Bridger, MPH, PhD, Assistant City Manager for the City of San Antonio, Texas and former Director of the San Antonio Metropolitan Health District, which in November achieved national inital accreditation through PHAB. "It's the public's assurance that their health department is meeting national standards. I've know for years that San Antonio's health department is stellar and this is one more validation of a first-in-class team working everyday to protect the public's health."
San Antonio Metropolitan Health District was awarded a five-year accreditation status this past week. San Antonio becomes the sixth local health department in Texas who has achieved this national accreditation:
Public Health Emergency Preparedness Program Launches New Game App: Mosquito Mayhem
November 9, 2018
Public Health Emergency Preparedness Program Launches New Game App: Mosquito Mayhem
The Public Health Emergency Preparedness Program at Fort Bend County Health & Human Services has developed a mobile app in cooperation with Zco Corporation to create public awareness of mosquito breeding conditions and ways they can be eliminated. Mosquito Mayhem provides a fun and exciting way to learn about the routine activities people can do to control the attack and breeding of mosquitoes around their home.
"This app is a great way to introduce public health to the new generation of mobile users. It will engage our youngest residents of the county and hopefully instill good mosquito preventive habits," said Dr. M. desVignes-Kendrick, Local Health Authority and Director of Fort Bend County Health & Human Services.
For more information, see press release.
Fort Bend Mosquito Mayhem
Fort Bend County Health & Human Services Mosquito Mayhem
San Antonio Metropolitan Health District Recognized as RWJF 2018 Culture of Health Prize Winner
September 2018
San Antonio is one of four winners of the 2018 Culture of Health Prize, awarded by the Robert Wood Johnson Foundation (RWJF) chosen from nearly 200 applicants. San Antonio's award-winning efforts include citywide, all day Pre-K, a municipal court that helped decriminalize truancy statewide, a mental health unit within the police force and an "equity-lens" citywide budget for the last two years. Judge's also applauded San Antonio's wealth of data-driven collaborations for education, teen pregnancy prevention and homelessness. The distinction comes with a $25,000 prize and the opportunity to connect with officials from communities that previously won the award.
For more information click here
San Antonio Metropolitan Health District Staff
To view a larger version of each photo, please click on a thumbnail.
TACCHO Holds Advocacy Briefing at the Texas Capitol!
April 4, 2018
TACCHO Members held an Advocacy Lunch Briefing at the Texas Capitol on April 4, 2018. State policy makers and staff heard how local public health protects the public's health everyday with their work in infectious diseases, preparedness and response and emerging health crisis.
Topics included:
How Local Health Departments serve as the Chief Health Strategist in their community by collecting, reviewing and publishing various data points that identify health issues for the communities they protect.
LHDs ensuring that health equity is considered during the planning and implementing of policies and programs.
The importance of immunizations to prevent and control infectious diseases from spreading throughout the community.
The role of public health in addressing the emerging opioid crisis.
A LHD story of being in the eye of Hurricane Harvey and the preparedness and response actions by local public health staff.
More information on each member of TACCHO can be found by scrolling down the webpage and looking under About TACCHO.
TACCHO April 2018 Advocacy Briefing
To view a larger version of each photo, please click on a thumbnail.